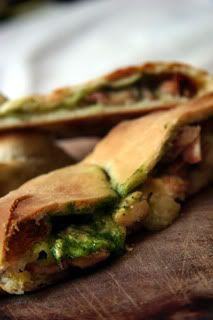 i made this for the children i nanny for lunch today. i don't eat meat so i didn't try it, but my kids said it was great. it looked good, that's for sure.
calzone dough recipe
1 packet or 2 1/4 teaspoons active dry yeast
1 cup warm water
2 1/2 to 3 cups flour plus more if necessary
1 1/2 teaspoons salt
1 1/2 tablespoons extra-virgin olive oil
In a large bowl, combine yeast with water, olive oil, salt and stir well to proof. After 5 minutes, add half of the flour and mix well to thoroughly incorporate. Add all remaining flour except 1/2 cup and mix well with your hands. Transfer dough to a lightly floured work surface and knead dough for at least 5 and up to 7 minutes, adding enough additional flour as necessary to form a smooth and elastic dough. Dough should not be sticky. Transfer dough to a lightly oiled 2 or 3 quart bowl and turn to coat with oil. Cover with a damp towel and let rise in a warm place until doubled in size, usually at least 1 hour.
Preheat oven to 500 degrees F.
(borrowed from Emeril Lagasse at the foodnetwork.com website)
filling
3 tablespoons pesto (i used dill pesto i had made last night)
a cup or so of grilled chicken
a cup or so of fresh grated parmesean cheese
Then I rolled out half of the dough to about 1/4 inch thickness, slathered the center of the dough with the pesto leaving about an inch around the perimeter like you're making a pizza. Sprinkle the cheese on top of the pesto, then put the chicken on only one half of the pesto and cheese covered dough. Fold the pesto/cheese dough over the chicken. Fold the edges of the dough together to seal it pressing down with your fingertips or knuckles. Beat an egg and brush the outside and sprinkle a little bit of salt. Bake until golden brown in a 500 degree oven.